Diplomatic Practice and consequently, Diplomatic Training, must keep abreast with the pace of change in our rapidly evolving world. Diplomatic Studies and Training Programmes must be innovative - reflecting today and preparing for tomorrow.
I founded the Academy of Diplomacy and International Governance at Loughborough University London and was the Director from November 2014 until October 2017. See my Activities and Achievements until October 2017 http://www.geodiplomatics.com/academy.htm.
As Professor of Diplomatic Studies and Applied International Relations, Director and Head of the Diplomatic Academy of London [DAL] at the University of Westminster and more recently as Founder and Director of the London Academy of Diplomacy [LAD], University of East Anglia, London Campus, I worked with my department and the University to provide a unique brand of training for diplomats attending the programme in London and Paris. The programmes that I have developed involve candidates with practising diplomats in class situations, simulation exercises, amd international conferences. In addition, they participate in educational visits to Ministries for Foreign Affairs and to international and regional organisations, such as NATO, the International Criminal Court, the International Court of Justice, and the EU.
The Media and Technology
As long ago as 1982, before other institutions had recognised the trend, I led my team in practical training for diplomats in the necessary relationship between diplomatic missions and the media. In 1986, I organised hands on training for the revolutionary impact of information technology on governments and diplomatic missions, including networking and the Internet, though case studies in functioning embassies and government departments.
Diplomacy in the 21st Century Series
1995 was the starting point for a series of international symposia, on the theme "Diplomacy Beyond 2000" which developed into "Diplomacy in the 21st Century." The series brought together government officials, career diplomats, international experts and academics who dealt with emerging patterns of diplomacy in both practical and theoretical aspects.

Reception, Foreign and Commonwealth Office, April 1995
By your courses, by your activity, you are bringing together senior politicians, academics and diplomats to deal with complex political, economic and security issues and I can say without the fear of contradiction that one of Britain's traditional assets is our academic institutions. The Diplomatic Academy is part of these with its pioneering integrated Diplomatic Training Programmes and events like this Symposium.
Baroness Chalker of Wallasey, Minister of State for Foreign and Commonwealth Affairs and Minister for Overseas Development
Other Comments on the Series:
April 1995, 'Diplomacy Beyond 2000' "…I could sense that the conference had been a real success. May I congratulate you on such an enterprising and successful 'first'?" From: Sir Anthony Figgis Vice Marshal of the Diplomatic Corps

April 1996, 'Are Diplomats Really Necessary?' "I congratulate you on the impeccable organisation of the two days of meetings and on the high quality of speakers. It was quite a coup to get John Coles to bring us up to date on developments within the British Diplomatic Service. And it was well covered in 'The Times'. … I was particularly impressed by the inclusion of your students in every theme; and by your idea of requiring them to report on the proceedings." - Sir John Johnson KCMG, Former Director, Foreign Service Programme, University of Oxford

"I send my warmest congratulations on a most successful symposium. I thought that it was impressively organised and of real importance and for the future conduct of diplomacy. The speakers were all first class. I know how much work has to go into organising conferences of this scale, but I hope that you are happy with the excellence of the reward. I certainly found it of great value and it was also extremely helpful for me to meet so many colleagues in the field of diplomatic studies and training…" -Sir Robin Fern, Director Foreign Service Programme , University of Oxford
2008 Symposium Transformational Public Diplomacy. Reception at the American Embassy in London UK
(l-r) Vice Chancellor, and Rector. University of Westminster and Professor, HE Mr Robert Tuttle, Ambassador of the United States to the Court of St James's; Professor Goeff Petts, Nabil Ayad, Director, the Diplomatic Academy of London, University of Westminster; at the American Embassy reception which was hosted by Ambassador Tuttle to welcome the delegates of the international symposium in the series of Diplomacy in the 21st Century on Transformational Diplomacy: Shaping the Future of International Relations.
Image Management Cube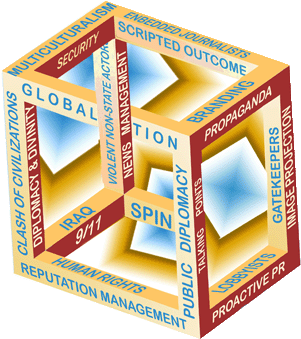 As a visual to accompany the symposium on "International Security and the Dynamics of the New Diplomacy: Image Projection and Reputation Management" which was organised in conjunction with Foreign Affairs Canada in May 10-11, 2006, I developed the Image Management Cube, illustrated above, to show the interrelationships among various aspects of communication, reputation management, and public relations.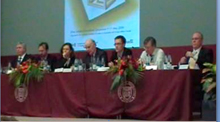 The Metrics of Performance Assessment: Practice Made Perfect

Panellists : (l-r) Professor Nabil Ayad , Director , The Diplomatic Academy of London , University of Westminster , Mr. Joshua S. Fouts, Executive Director, USC Center on Public Diplomacy, Annenberg School for Communication, University of Southern California;, Ms. Sharon Memis, Director, Corporate Planning and Performance, British Council, London, Sir David Miers, KBE, CMG, former British Ambassador to Lebanon, Greece and The Netherlands and Head, Middle Eastern Department, Foreign and Commonwealth Office, LondonMr. Fred Martinson, Director of Strategy, BBC World Service, London, M r. Michael Smith, Director General, Chartered Institute of Arbitrators, London and former British Ambassador to Tajikistan,Angus Reid, President and Angus Reid Consultants & Senior Fellow, Liu Center for the Study of Global Issues, University of British Columbia, Canada. May 2006
The Vision of Geodiplomatics
In 2008, in recognition of the impact that mass communication through mass media and information technology, as well as globalisation, have had on Diplomatic Practice, the innovative concept of geodiplomatics was brought forth at the symposium entitled: "Transformational Public Diplomacy: Shaping the Future of International Relation,." which was organised in conjunction with the American Embassy, London and University of Southern California, Center on Public Diplomacy.
Sir Peter Marshall, KCMG describes how far the practice of diplomacy has shifted towards a public model of geodiplomatics:
The management of international affairs has long ceased to be an exclusive intergovernmental affair, more or less separable from internal affairs, and handled by diplomatic elites far from the madding crowd. It is now a public and interactive affair, engaging vast numbers of 'actors', state and non-state, working together in all manner of combinations. Their participation is defined not so much by their formal or legal status as by their capacity to respond to events, and to accept responsibility to help in shaping them..- from The Commonwealth at Sixty.

[l-r ] Professor Nabil Ayad and Sir Peter Marshall Introducing the concept of 'Geodiplomatics' in the context of the conduct of International Relations, at the 16th Diplomatic Academy of London Symposium entitled Transformational Public Diplomacy: Shaping the Future of International Relations, May 2008
DAL has created a new model for university education for professional diplomats and graduates aspiring for an international career. My greatest success has been the integration of theoretical and practical concepts using innovative and creative approaches. When I started the diplomatic studies programme at the University of Westminster in 1980, Diplomacy was a minor branch of International Relations. Through my vision, Diplomacy has become a discipline unto itself, and my achievement is recognised by many professionals and scholars as innovative in the field.